QUICKPOWER 1230 - Caeb International
Our products > Collecting vineyard prunings and trimmings

ROUND BALER FOR CUT VINE BRANCHES DESIGNED FOR ROWS WIDER THAN 160 CM

Should any material get stuck among the pick-up rollers, it is possible to engage the hydraulic pick-up mechanism to "power out" the blockage.
The collecting forks, necessary when working on stony ground, prevent the transferring of rocks and stones inside the machine baling chamber.
QUICKPOWER uses a special extruded PP (polypropylene) net for wrapping, specifically designed to keep compact any type of cut vine branches and trimmings. Alternately the bales can be wrapped with SISAL natural twine.
The bale produced has the following dimensions: height 600 mm - diameter 400 mm.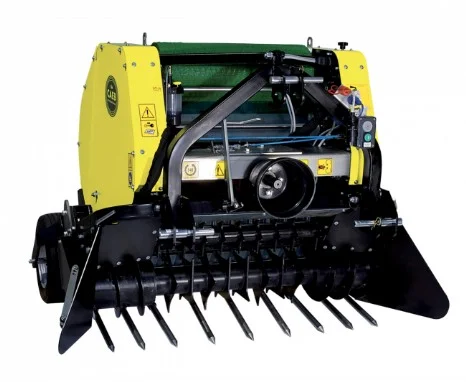 POWER UNIT REQUIRED FEATURES
- double-acting hydraulic system
- 12 Volt supply system
- power at PTO ~ 15 kW and rotating speed ~ 350 rpm
N.B. The machine without accessories weighs more than 500 Kg, hence the power unit shall have a suitable weight.



Technical data

Length

Weight

QUICKPOWER 1230 + BALE TRANSPORTER 8CM + swath brushes

Height with Bale Transporter 8CM

(Quickpower included)

Length with Bale Transporter 8CM

Width with closed swath brushes

Width with open swath brushes

QUICKPOWER 1230 + BALE TRANSPORTER 4CM + swath brushes

Height with Bale Transporter 4CM

(Quickpower included)

Length with Bale Transporter 4CM

Width with closed swath brushes

Width with open swath brushes

Bale Transporter 8CM

Bale Transporter 4CM

Complete pair of swath brushes

Complete pick-up forks

Bale size