Round baler with THERMIC ENGINE for INDEPENDENT OPERATION
Our products > Haymaking

MOUNTAINPRESS 550 TML is a mini round baler
laterally TOWED
by any kind of power units, even by those
without PTO
. It is equipped with a
10.0 kW (13.5 HP) electric starter endothermic engine
that allows to pick-up, bale, wrap and unload the bales without any thermic or hydraulic request to the power unit. All the baler controls are actuated from the driver's seat. An acoustic signal warns the operator when the bale is fully formed. The electric ignition, wrapping, the forming chamber opening and closing are operated by an electrical control board.
MOUNTAINPRESS 550 TML, thanks to its small weight and its low centre of gravity, can work with any kind of power units like atv, quads, small excavators, tracked vehicles, golf cars etc...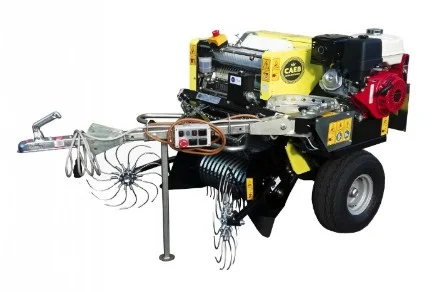 Technical data

Length


Width


Height


Weight


Bale output per hour


Pick-up


Tyres


Engine power
WRAPPING
NET
All of the CAEB INTERNATIONAL round balers wrap the bales with a special agricultural woven net, specifically designed to keep the baled product compact without damaging it.